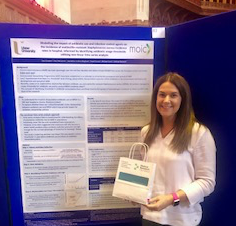 Sara Gardner, Ulster University PHD Student and part of the Medical Research Foundations UK-wide PhD training programme, has successfully won best poster at Medical Research Foundation annual conference.
The Thresholds project aims to demonstrate that controlling the usage of key antibiotics under certain levels (or thresholds) can help to prevent the spread of resistant bacteria such as MRSA. Sara is working closely with MOIC and the Northern Health and Social Care Trust to complete this study.
Antimicrobial resistance has risen alarmingly over the last four decades and claims at least 50,000 lives across the European Union and United States each year. As a result Antimicrobial Stewardship Programmes have been established in an attempt to minimise the emergence and spread of antimicrobial resistance. It has been hypothesised that there is a 'threshold' level of drug, above which, the persistent selection of the antibiotic in the environment will lead to the development and spread of antimicrobial resistance.
Therefore the concept of identifying thresholds in antibiotic consumption is the basis of this research.
So why is this important?
The study aims to restrict the use of identified antibiotics to a level below the threshold, in theory creating a safe level for use. This may mean that we can use previously restricted antibiotics at safe levels, therefore bringing restricted antibiotics back into practice.